Heating & Air Quality Tips – Plus Best Furnace Filters for Pets
We Love Our Pets!
Pets are a great joy in our lives! They bring us comfort and companionship. But it does come at a cost. And sometimes that cost is related to furnace problems.
While there are regular costs with pet food, toys and vet bills, your furry friends may also take a toll on your home's heating systems. And they're probably decreasing the quality of your indoor air.
Yes, your pets are likely negatively affecting your home heating. Fortunately you can probably counteract whatever damage they are doing! Our team at Hanna Heating & Air Conditioning are pet lovers, ourselves. We want to help make sure your home's heating and cooling system works around the common problems pets can cause.
Learn how to counteract the negative affects our pets have on our HVAC systems as well as the best furnace filters for pets.
Top HVAC Problems Caused by Pets
Furnace Probles from Clogged Air Filters
One of the most common issues pet owners can face is clogged air filters. Pets shed fur, dander, and feathers regularly, and these airborne small particles can quickly find their way into your home's heating system. Over time, these particles accumulate in the air filters. A dirty filter will likely reduce airflow and make your furnace work harder to maintain the desired temperature.
Solution: To combat this, check and replace your air filters more frequently. Depending on your system's filter size and the number of furry pets in your home, you may need to start changing it every month. Consider investing in high-efficiency filters designed to capture pet-related allergens effectively.
Best Furnace Filter for Pets
Filters with a MERV 8 to MERV 13 (read more about understanding MERV filter ratings)
HEPA (high efficiency particulate air) washable filter for home pet dander
Disposable filters with a 4" pleated filter (instead of a 1" filter)
Filters with odor reduction features
Blocked Vents
For your home's heating system to work at peak efficiency, you don't want to have vents blocked. However, these floor vents are a warm and welcome spot for many of our furry friends. Depending on the chonk of your cat or dog, they can hog up the whole vent.
If this vent is in a room you are using, you will likely feel the absence of warm air getting circulated. However, they may be spending hours cozied up over a vent without you even knowing it. You could retire to your bedroom for the night and suddenly wonder why the room is so much colder than the rest of the house. A sleeping pet lying on top of your vent may be the problem.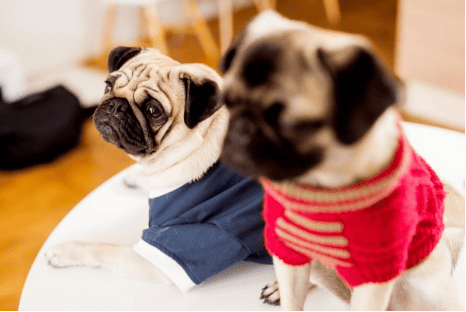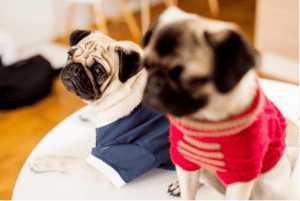 Solution: You do not want to block the vent or cause too much issue with the air flow coming from it. Perhaps you can position furniture around it (without blocking it) to deter your pet. Otherwise, if it's a room that can be closed off from your pet, that may be your best option.
You may also want to consider if you are keeping your home a bit too cold for them. Try putting them in pet clothing (if they will allow it).
Odor Control & Furnace Problems
Pets can cause odors in your home that linger and become trapped in your HVAC system. Whether it's the smell of wet dog, litter boxes, or bird cages, these odors can be challenging to eliminate.
Solution: Proper ventilation is key to maintaining a fresh-smelling home. Ensure your home is adequately ventilated. Consider using air fresheners or odor-neutralizing products designed for pet households. Regular cleaning and pet grooming can also help reduce odors.
Increased Wear and Tear
Pet hair and dander not only clog filters but can also infiltrate the inner workings of your heating system which can cause furnace problems. Pet debris can coat fans and coils, leading to increased wear and tear on your HVAC system.
Solution: Regular maintenance is crucial for pet owners. Schedule annual HVAC inspections to ensure your furnace is in good working condition. You can also call on a professional to clean the internal components to remove pet-related debris.
Allergens and Indoor Air Quality
Pet dander is a significant source of indoor allergens. Even if you're not allergic to your pets, guests or family members might be. The presence of allergens can lead to sneezing, coughing, and other breathing issues, especially in individuals with sensitivities.
Solution: To improve indoor air quality, consider investing in an air purifier with a HEPA filter. These devices can effectively remove pet allergens from the air. Regular cleaning and vacuuming of your home, including your pet's bedding, and living areas, can also help reduce allergen levels.
Cat Urine in Your Vents & Ductwork
Whether they choose it for being a nice warm spot or some other reason, it's not uncommon for a cat to use a vent as its litterbox. Perhaps you notice a puddle near the vent. Or maybe you notice a sudden foul smell shortly after the furnace kicks and the hot air is pushing its way past that urine-soaked vent.
While cat urine can cause different problems in different places, peeing on top of a vent creates its own set of issues. Depending on how far that urine got, you could be looking into quite a bit of effort to get that completely cleaned. Or of allergens can lead to sneezing, coughing, and other respiratory issues, especially in individuals with sensitivities.
Solution: Using a black light, you will be able to spot urine stains. You can clean the area with a pet urine cleaner or a solution of 1 part vinegar and 1 part baking soda.
If your cat has been using this vent as his bathroom for awhile or it has gotten very deep into the ductwork, you may need to hire a professional air duct cleaning company to completely handle the problem for good. Or you may be reminded again once you start the furnace up next winter!
Living (and Breathing) Well with Our Pets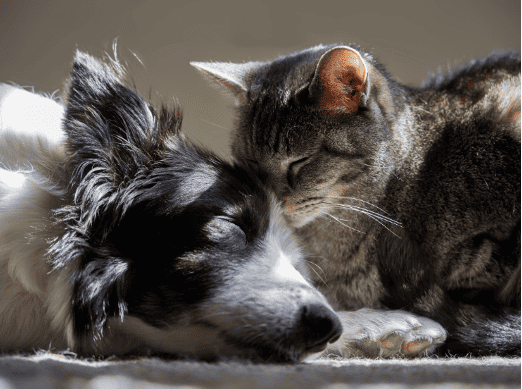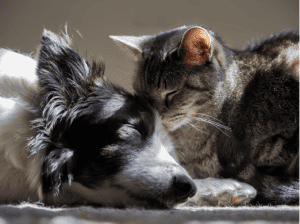 While pets provide us with love and companionship, they can also pose challenges for our HVAC systems and indoor air quality. However, with proper maintenance and a few simple solutions, you can ensure that your HVAC system stays in good working order. And you can take steps to make sure that the air you breathe is clean and healthy.
Sometimes the issue is much larger than even the best furnace filter for pets can fix. This is especially true for anyone who suffers with allergies, asthma or other respiratory problems.
Fortunately, you don't have to give up your pets to breathe better. There are many great indoor air quality solutions that can help you breathe easier in your home, even with pets!
Hanna Heating & Air Conditioning provides a variety of air quality solutions including the Air Scrubber Plus®. Some can purify the air, remove particles and viruses as well as nasty lingering odors.
Contact us today to learn about the various air purifying and cleaning systems that can be installed right into your home's existing HVAC system. You can contact us by sending us a message online or by calling us at 316-945-3481.