Call for Emergency Service:

Emergency Repair: We're there when you need us
Having an air conditioner break down in the middle of the night amid a Wichita heat wave can be a nightmare situation. A furnace breaking during a Kansas winter cold snap can cause real problems for your home and family. You never need to be left stranded dealing with a problem with your heating or cooling system. Hanna Heating & Air Conditioning provides 24 hour, 7 days/week emergency service.
With three locations in our community – West Wichita, East Wichita/Andover & Newton – we have a large and well-equipped staff ready to reach you as quickly as possible. Count on our team of experienced HVAC technicians to get your heating or cooling system back up and running ASAP.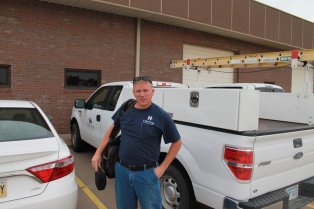 Keeping your equipment healthy is important to extend the life of your HVAC system and reduce your energy consumption. At Hanna we have service technicians with decades of experience and training ready for seasonal tune-ups or repairs. We service and repair all brands and have the parts and tools on hand to handle your HVAC system.
Our team can also professionally clean your duct system. With our professional duct cleaning services, we can pull out dust, debris and allergens to improve your indoor air quality. We also repair gas fireplaces.
You can contact us online for scheduling non-emergency service or by calling us at (316) 945-3481.