Call for 24/7 Emergency Service
Send Us a Message
To schedule service or for other inquiries, fill out the form below and we will get back to you soon!
At Hanna, we understand that you've got a busy life. We know trying to fit a service call or installation into your schedule can be difficult. We work hard to coordinate and arrange a time to do the work you need at a time convenient for you. We are fortunate to have a large number of loyal customers who rely upon us, and so ask you contact us in as much advance as you can so we can best coordinate the work you need done.
Hanna Heating & Air Conditioning has grown a lot since Carl Hanna first started the HVAC business in Wichita in 1983. We have expanded to three locations with more than 50 HVAC trucks on the street. That means we are well equipped to handle your furnace or AC repair or maintenance need very quickly and sooner than other companies.
Hiring the right people to work on the vital systems in your home can be difficult to do. You want a company that is professional, keeps your home clean and provides the service in a friendly manner. But most importantly, you need to know you've hired someone who can get the job done right. We are proud to have so many homeowners in Wichita, Andover, Newton and surrounding communities to continue to trust us with their home's comfort system. You can read the many testimonials and 5-star reviews for the work Hanna Heating & Air has done.
Contact Us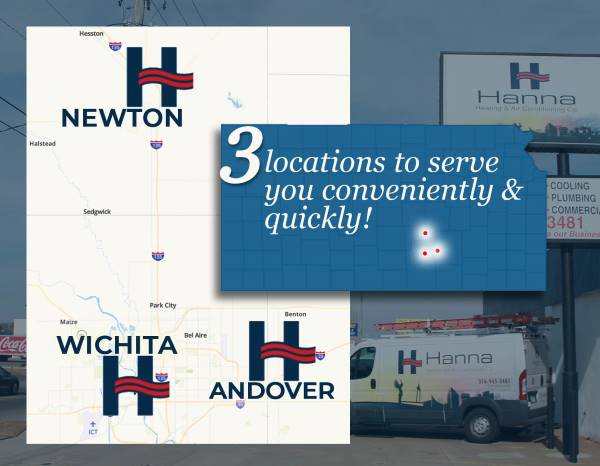 EAST
OFFICE HOURS
8 a.m. – 5 p.m.
Monday – Friday
Hanna's 24/7 Emergency Service means that we always have 2 technicians always available no matter the time for any issues you may have.