Which Way Does Air Filter Go In?
Furnace Filter Air Flow Direction
It's about the most important thing you can do for your furnace and air conditioner – changing your air filter regularly. Making sure you always have a clean air filter in your furnace is the best way to make sure your home's HVAC system works well, that you have good indoor air quality, and to help your furnace last longer!
Dude, Where is My Furnace Filter?
When a dirty air filter isn't getting changed, it is not usually because a homeowner was lazy. There are many reasons why someone may have neglected to change the filter. Often a homeowner is confused about how often their filter needs to be changed or simply don't know how to change it.
Air Filter, Furnace Filter, AC Filter
It doesn't matter what you call it. They are all the same thing. While most people associate the filter with your furnace, it is vital for both your heating AND cooling system. In typical HVAC systems, when you run your air conditioner, that cool conditioned air flows through the filter. These important components filter out some very small particles including dander, dust mites, bacteria and even viruses. Having a good quality air filter means your system is doing an even better job filtering out annoying and even hazardous contaminants from your home.

How to Install a Furnace Filter
Nearly every furnace is different from each other. The way you were used to changing your air filter in your previous heater may not be the same way you'll need to do it with your new furnace.
Where your filter needs to go is different from unit to unit. But as a general rule, you can expect to find the filter location depending on these factors:
For horizontal units, you will likely find the filter on the side of it.
For vertical upflow units where the air comes in from the bottom, look for the filter location in the bottom door.
For vertical downflow units (air comes in from the top), you can expect to find the filters in the top door.

Best Way to Ensure to Install Correct Air Filter Installation
The best way to always be sure you get the air filter direction put in correctly is simple. You just need to look at the airflow arrows on it before taking it out.
Finding the Arrow: Take note of the furnace filter direction and be sure to put your new clean replacement one in the same way. You will be looking for an arrow on the edge of that filter. Simply be sure your new replacement has the arrow pointing the same way as the old one you are taking out.
Here is a great tip to make sure you never have to wonder about the furnace air flow filter direction again. Once you've identified the right way the arrow should be pointing, you can take a permanent marker and draw right on your furnace the arrow in the way it should be pointing.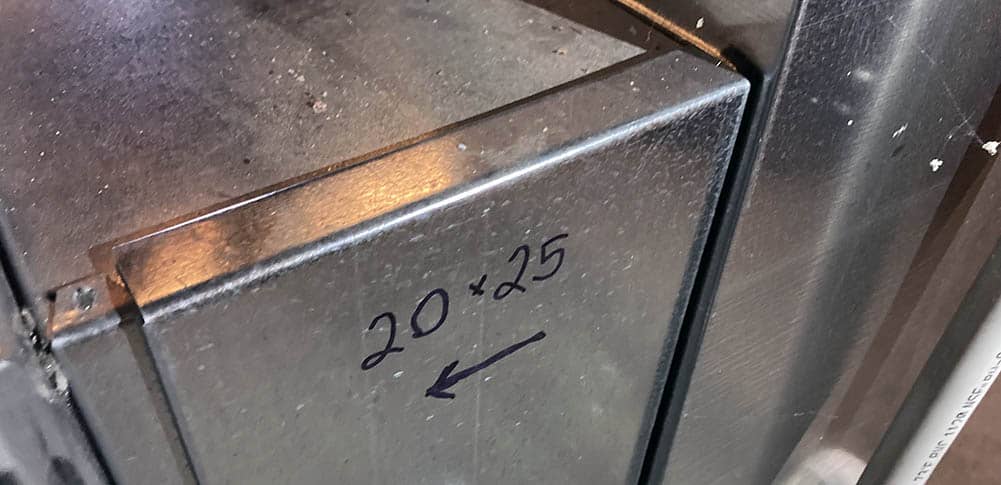 How Often Should I Change My Air Filter?
This is not a black-and-white answer. Every furnace, home, and family is different. Your type of furnace and the filters it uses may indicate how often you need to change it. You will change a thicker air filter several inches less frequently than the traditional thin 1-inch filters.
Some factors that determine how frequently a furnace filter should be changed include:
How many people live in your home
If anyone suffers from allergies or respiratory illnesses
If there are pets
Answer these questions and more to get a customized furnace filter schedule by taking our Personalized Air Filter Schedule Calculator.
You can also use modern conveniences to make remembering to change your filter easier. Learn about Smart Air filters and automatic filter delivery in this helpful article.
Hanna Heating & Air Conditioning has been repairing furnaces in and around the Wichita area since 1983. We've seen a lot of problems that can happen when people do not take care to change their furnace filter as often as they should
We provide a professional heating maintenance service that includes air filter replacement. We will make sure your system is running efficiently and safely. Call Hanna today at (316) 945-3481 or send us a message online.