Thermostat Warning: Furnace Communication Error
Understanding Smart Thermostat Warning Messages
Modern technology has helped make our homes more comfortable than ever. But advanced tech can come with a learning curve. Digital types of glitches can also create problems – including losing heat in the middle of winter. But one of the great positives of technology is improved communication: a thermostat warning can detect an issue that may save you from a big disaster.
If you have a smart thermostat and run into problems with your furnace or air conditioner, it may appear confusing. Our furnace repair techs at Hanna Heating & Air regularly handle customer issues that stem from the thermostat.
Fortunately, there may be some easy troubleshooting steps you can take to remedy the problem. Learn what a furnace communication failure is and how to handle it.
Communication Signals to Your Furnace
Having smart home gadgets like high-tech programmable thermostats make home comfort easy and convenient. But for most digital devices to work, it needs to properly send and receive communication. If something blocks that signal, problems can happen.
Decades ago, furnace technicians were armed with a tool kit of wrenches and screwdrivers, and other traditional tools to handle just about any problem a furnace could be having. Now with modern advancements in HVAC technology, our tools have expanded. And our skills have, too. Professional technicians, like those at Hanna Heating & Air, are trained and licensed to handle heating and cooling devices with all types of digital technology.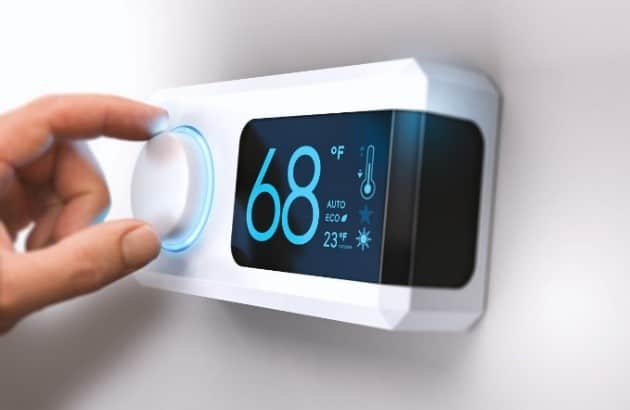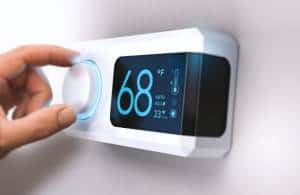 Most of the digital technology that homeowners see is on their thermostat. Smart thermostats have many great features that not only make heating and cooling a home convenient, but also very energy efficient. You can set different temperatures for different days and different times of the day.
These thermostats allow you to program in a break in energy use when you are going to be gone on vacation. You can even change the temperature setting before leaving work to ensure you have a warm and cozy house by the time you get home.
Broken Furnace or Failure to Communicate?
But smart thermostats can have glitches. Such a problem happened with a woman who had Hanna Heating & Air Conditioning install her home's HVAC system. Stephanie had just purchased a 100-year-old 2-story home in Wichita's unique College Hill neighborhood that had steam heat. We installed two separate heating and cooling systems to provide the best temperature control and energy efficiency for both floors of Stephanie's home. Along with that, new smart thermostats were installed.
Both systems had been operating perfectly for nearly four years before she ran into a problem. Stephanie noticed something was wrong with her upstairs furnace. During a January week with typically chilly Kansas weather, she could see that her upstairs furnace wasn't getting the heat to the desired temperature. She could hear the furnace kick on, but there were 2 signs of problems.
The air coming out of her vents felt cool
The furnace only ran for about 30-40 seconds before shutting off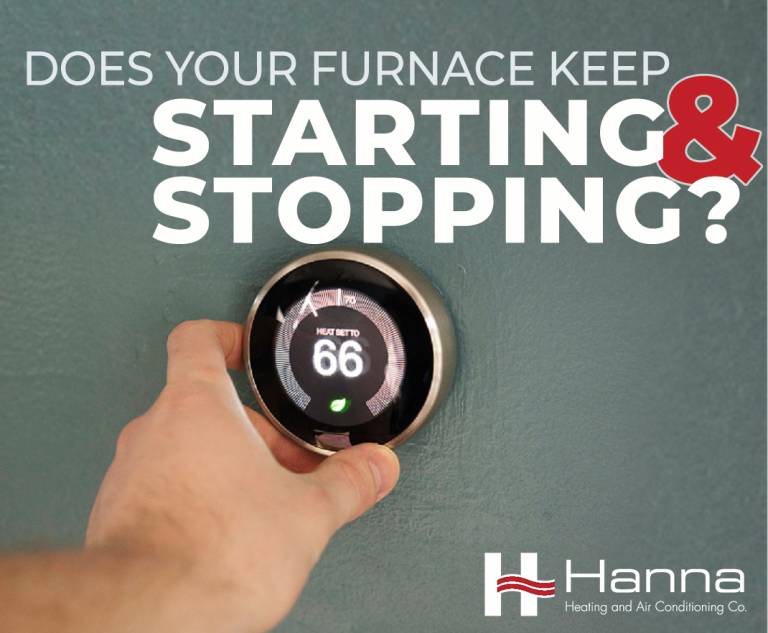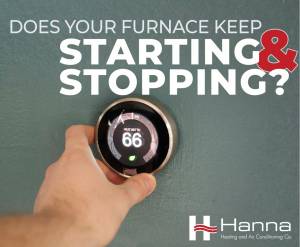 A furnace that runs for a short period of time, frequently stopping and starting, can indicate a potentially dangerous problem called short cycling.
Most modern furnaces are designed with automatic shut-off systems. If there is a hazardous problem within the heating unit, such as a potential carbon monoxide leak, a furnace may shut down as a safety precaution.
However, a short cycling furnace turns off and on more frequently than Stephanie's furnace.
Smart Thermostats: There's an App for That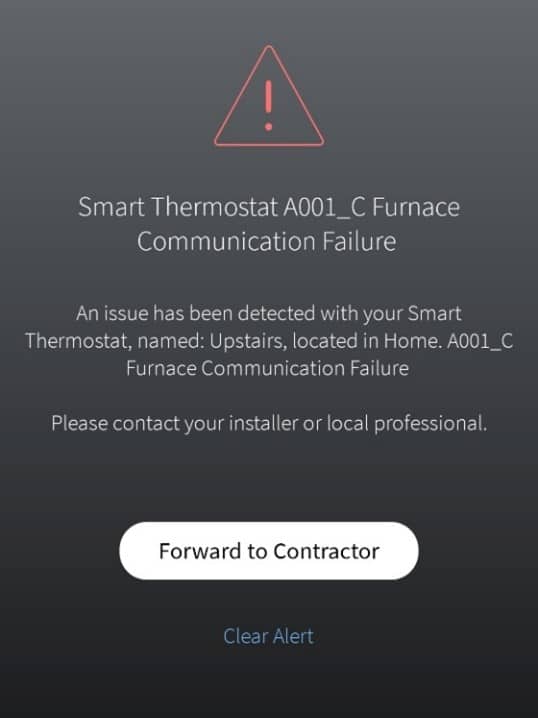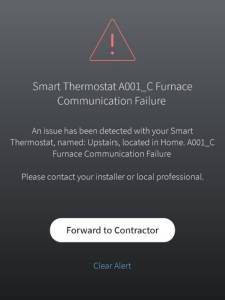 Smart thermostats have apps you can download to your phone, allowing you to control your home's temperature levels and programming from wherever you are. But in addition to that, the app can alert you to problems. For that reason, you will want to make sure you have phone notifications turned on so that you get alerted once there is a problem.
When the thermostat recognized an issue with communicating proper signals to the furnace, a notification appeared on the phone. A thermostat warning notified Stephanie that there was a communication error at the moment it happened.
The notification was sent before Stephanie even recognized she had any sort of heating problem in her home. So, she, unfortunately, dismissed the notification. It's common for those of us with smartphones to experience notification fatigue with many apps sending us frequent notifications on our phones.
Smart Thermostat Displaying Error Message
Fortunately, the app wasn't the only way the thermostat alerted that there was a furnace communication failure. The thermostat display screen also showed there was a problem. Like a check engine light on a car, a digital thermostat can display special icons to indicate problems.
On Stephanie's EcoNet thermostat, an orange error icon appeared. You can see it in the upper right corner as an exclamation mark inside a triangle.
Thermostat Warning Signs: A Simple Fix
The fortunate news for Stephanie was that her thermostat was just temporarily not connected to her home's wireless signal. It didn't have a connection to the furnace and so couldn't communicate that the furnace needed to heat the air.
By using the app, she was able to reset the internet connection. It took another minute or two for the connection to get fully established. But then the sound of her furnace kicking on was followed by warm air finally coming out of the vents.
While fixing this problem was an easy thing a homeowner can do on their own, that isn't always the case. Sometimes thermostat warning messages indicate bigger problems that something isn't working properly – and that can't be resolved simply by resetting the internet connection.
If you see a warning on your thermostat, you should act right away. You could have a potentially big problem on your hands. Catching it early may help you avoid complete heat loss or other big, expensive problems with your home's heating system. It's always best to check your thermostat's manual for information and troubleshooting advice when you receive an error message.

You can always contact a professional HVAC technician to investigate the problem. Licensed furnace repair techs like ours at Hanna Heating & Air are experienced at handling all types of heating systems and all types of thermostats. We can even upgrade your thermostat with a more modern programmable thermostat.
Call Hanna Heating & Air for furnace repair at (316) 945-3481 – any day, any time. We offer 24/7 emergency service.