What is BTU?
What to Know Before Buying a New Furnace
When purchasing a new furnace for your home, you want to make sure you're getting a good deal on a good system. And just as important as that, you want to make sure you're getting the furnace that's right for your house.
Shopping for a new heating system can be confusing. Furnace options come with a lot of information, using terminology that many people don't understand.
For example, you might see a furnace listed with this information.

What is BTU? It's not surprising that many consumers do not know what much of what this information means. While there are several different components, each one is important to understand so that you know how to compare similar heating units. We are going to break down the basic information of one of those components so you can better interpret HVAC terms into information you can actually use to make the right decisions for your heating needs.
Understanding Furnace Terms: What is BTU?
The above listing included "100,000 BTU". This part of the description is speaking specifically to the energy expended to make the system work. BTU stands for British Thermal Unit. However, its name is completely unimportant. It is also no longer relevant as this measurement isn't even used in Britain anymore.
What is important to know is the right BTU needed to handle the capacity of your home. Getting a furnace with too little BTU for your home may result in your home not getting warm enough. Or you may end up having unnecessarily high heating bills because your small furnace is having to run non-stop to try to keep up. Having a unit with larger BTU than your home needs is also a problem. It may result in some areas of your home getting uncomfortably hot. A too large unit may actually be less energy efficient than a unit sized right for you home.
One way to start evaluating the proper size of furnace is by looking at the square footage of your home. Essentially, the larger the home, the larger BTU you will need.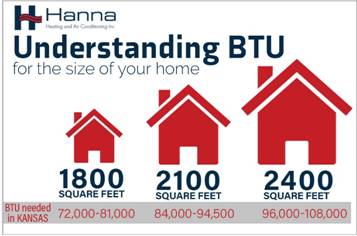 To get an idea how to evaluate how much BTU a furnace for your home will need, here is a chart that lists typical BTU needs depending on a home's square footage.
This chart factors in not just size, but where you live. Homes in southern states don't need as much BTU as we do here in Kansas or in states further north. The United States is separated into 5 different Heating Climate Zones. For those of us in the Wichita area and across most of Kansas, we live in Zone 3. The recommended BTUs needed for a furnace to properly heat your home in Zone 3 is 40-45 BTUs per square foot.
BTU is about more than house size and location.
Determining what BTU amount your home's furnace needs requires more than just knowing the size and location of your house. There are other factors to consider, including insulation, windows, and ceiling height. Read our 4 Step Guide to sizing heating units for Kansas homes.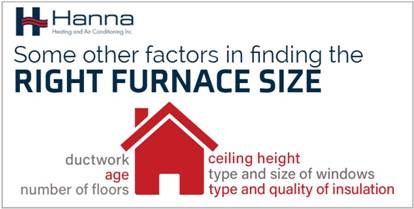 Need help determining what furnace is best for your home?
Fortunately, you don't have to figure this out all on your own! Our Hanna Heating and Air technicians will be happy to assess your home's specific needs to help you determine which heating unit is right for you and your home. With several decades of experience installing heating and air systems in homes across Wichita, you can trust us to find the best and most energy-efficient options needed for you. Call us today at (316) 945-3481 or send us a message online