Repair it or Replace it?
Furnace repair vs. replace: How to determine if your heating system can make it through another winter
Does it feel your home just isn't getting (or staying) as warm this winter? No matter if we're dealing with a harsh or a mild Kansas winter, your furnace should be working to provide you at the same comfort levels year after year. If you are performing regular seasonal maintenance on your heating system, you should have a furnace that is working properly for many years.
But when you discover your furnace isn't keeping up and that a repair is definitely in order, you need to consider if a repair is really the right option. Or is it time to get an entirely new heating unit installed?
The factors to help you decide whether to repair or replace your furnace come down to 3 essential numbers:
Age of your furnace
Cost of your monthly energy bills
How much a looming repair is going to cost you
At Hanna Heating & Air, we see this question all the time and help homeowners determine when a furnace is no longer worth repairing. But while our experienced team of heating specialists would be happy to come out to your home and assess whether your home's heating needs will best be served by a furnace repair only, you can start to make the determination based on a few factors about your heating system.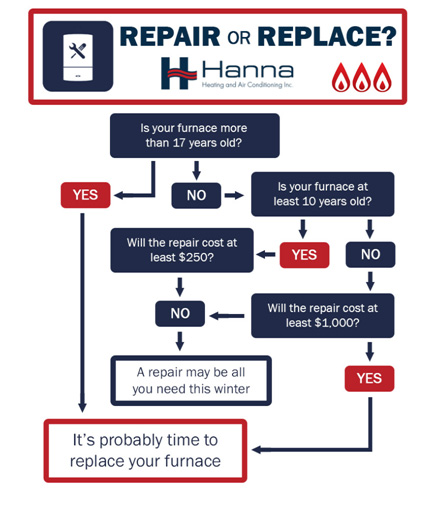 Furnace Repair vs Replace: Some questions to consider
How old is it?
When was your current heating system installed? A typical furnace lasts 18-20 years. But whether or not a furnace can even last that long is dependent upon whether it has been properly maintained over the years. Also, the age of your furnace isn't the only determining factor. You may decide to replace a "young" furnace if it's costing you discomfort and unnecessarily high heating bills.
How high are your heating bills?
Have you seen your bills go higher this winter than previous years? Spending extra every month on heating bills is money you won't see back. Putting that extra money towards a new energy-efficient furnace is an investment into saving money on future energy bills. Heating your home uses more energy and costs more money than any other system in your house. The cost to heat your home usually accounts for more than 40% of your utility bill. A new, energy-efficient system could really save you money on those bills immediately.
How much is it costing you to repair?
A prime factor in determining whether it's time for a new installation is the cost of the repair. How expensive does a repair on your furnace need to be before it's not worth it? Consider how old your unit is with this repair cost. Will you be facing a huge repair bill on a unit that should be replaced soon anyway? This may help you get a good idea if doing a repair alone is really worth it in the long run.
When is the best time to get a heater replacement?

The worst time top get a furnace installation is in the middle of a freezing Kansas winter. The advice we can't give enough to all our customers is for you to turn on your heating system well before you need it each year. That means perhaps in late August or September, turn your heater on and make sure the thermostat is set well above the current ambient temperature in your home. Sure, you may be in for a hot house on a particularly hot day, but if you heater doesn't kick on or it doesn't get your home up to the temperature you set it at, you know you've got a problem. And you know you've got time to fix your problem before you need it.
But more than that, we will be much more able to fix it sooner. You see, because most people don't turn on their furnace until it starts getting cold, that's when a lot of people all across Wichita all discover they have a problem with their heat. And so we are swamped with calls from freezing homeowners keeping our technicians busy around the clock. If you wait to call at this time, you can expect to be waiting longer to get a furnace repair technician to show up and get the job done.
Trust the Heating Experts to Help You Determine What Your Home Needs
Contact us today so you're not left out in the cold this winter. Hanna Heating and Air Conditioning's team of technicians are highly-skilled and have years of experience in heater repair and installation. Our team provides knowledgeable, friendly service and high-quality work. We can help you determine whether you truly are due for a heater replacement.
We're here to help you every step of the way. From scheduling a service call at a time that works for you, to identifying the best replacement unit for your needs, Hanna offers unrivaled customer service. Call us at 316-945-3481 and we'd be happy to schedule an appointment to quickly address your furnace repair or replacement needs. We have three convenient locations in and around Wichita, including in Newton and Andover. We have been the heating and air company trusted by homeowners in south-central Kansas for decades. Call us at (316) 945-3481.