Recipient of 2 Westar Energy 2018 Heat Pump Dealer Awards
Hanna Heating & Air received South Region Leader Awards given by Westar Energy for "Most Hybrid Heat Pumps" and for "Most Heat Pumps in Existing Homes" for 2018. With these two new awards, Hanna has now been the recipient of 6 awards from Westar Energy for our sales and service specifically of heat pumps, not just for the Wichita area but for the entire south Kansas region.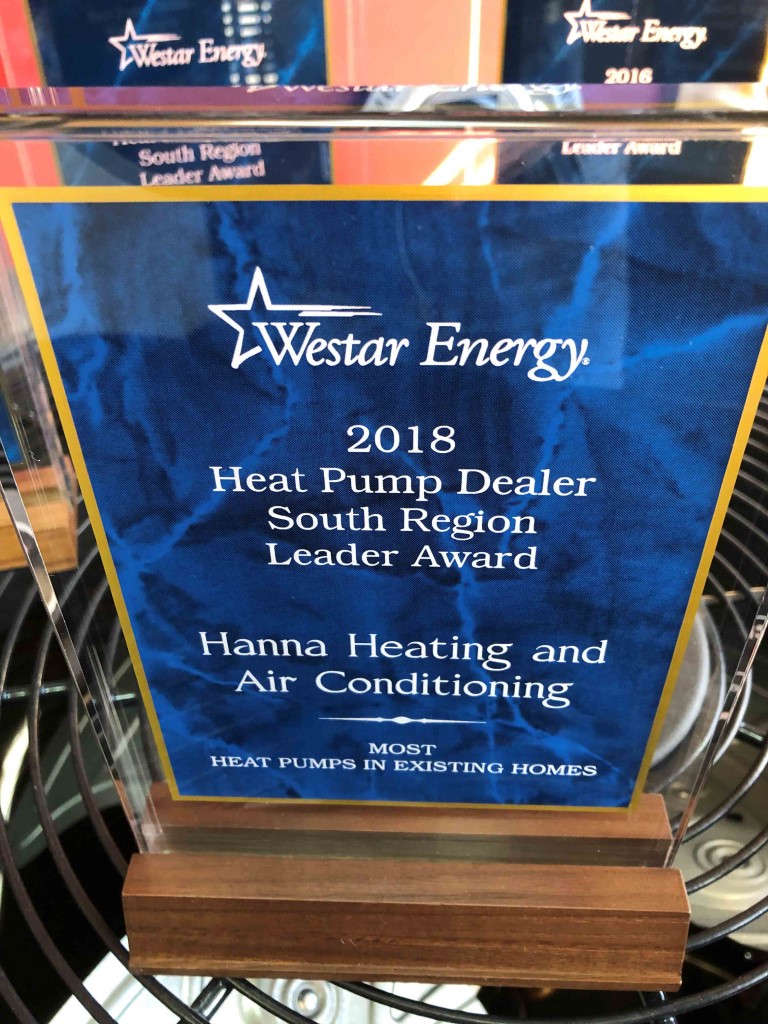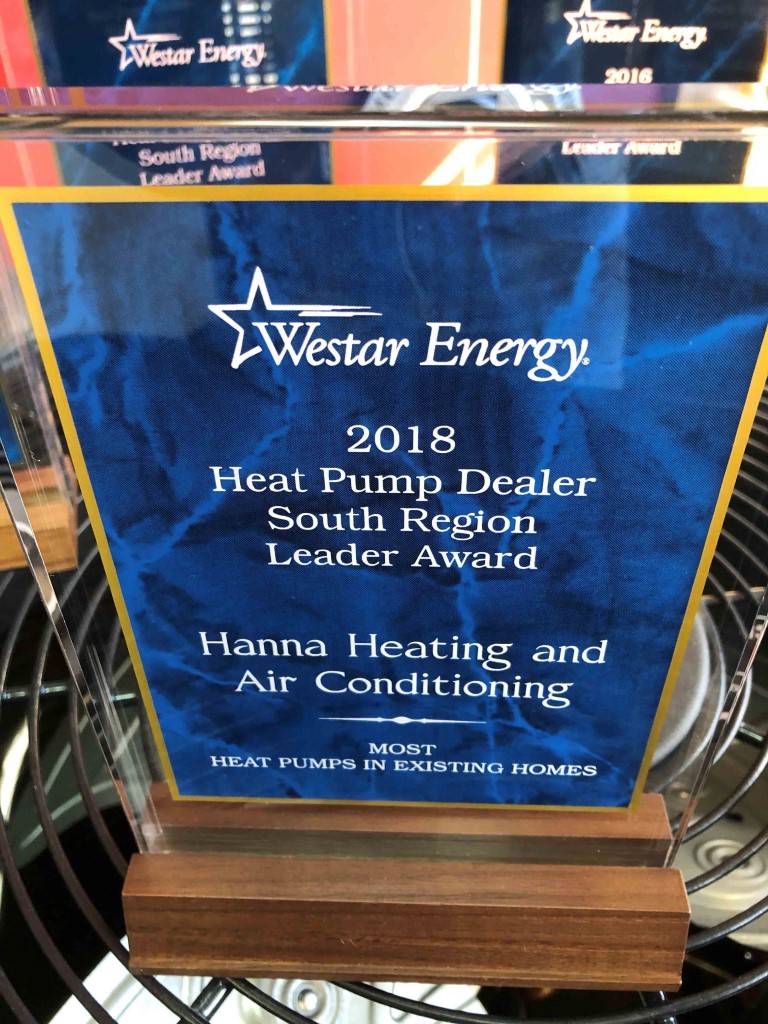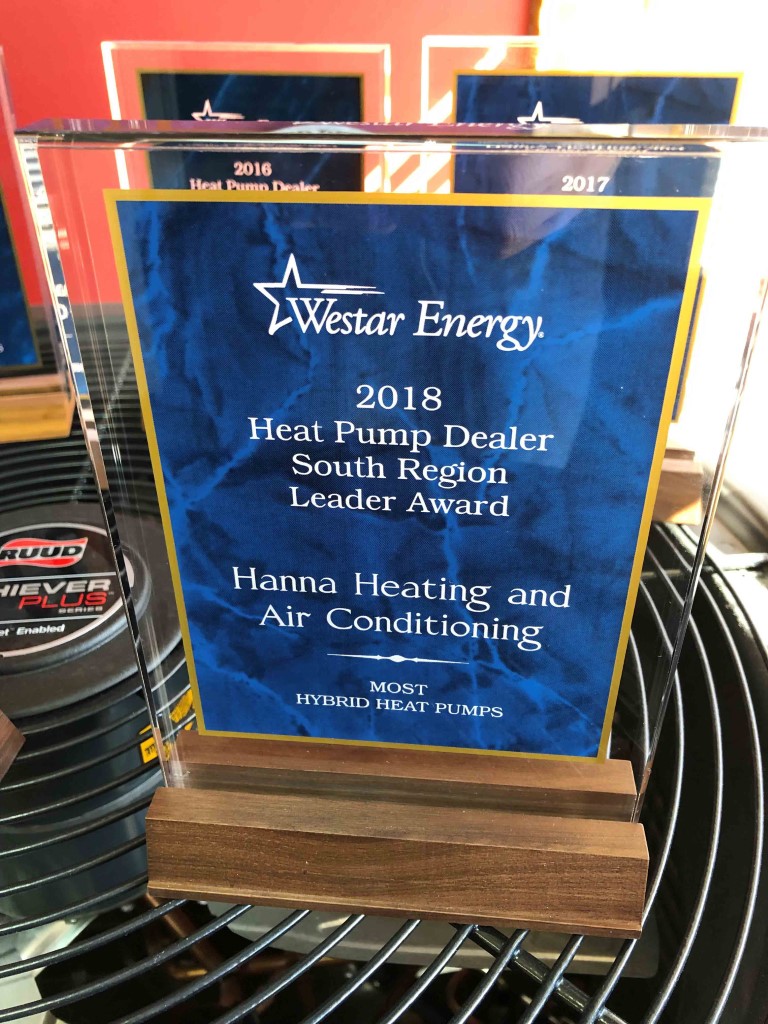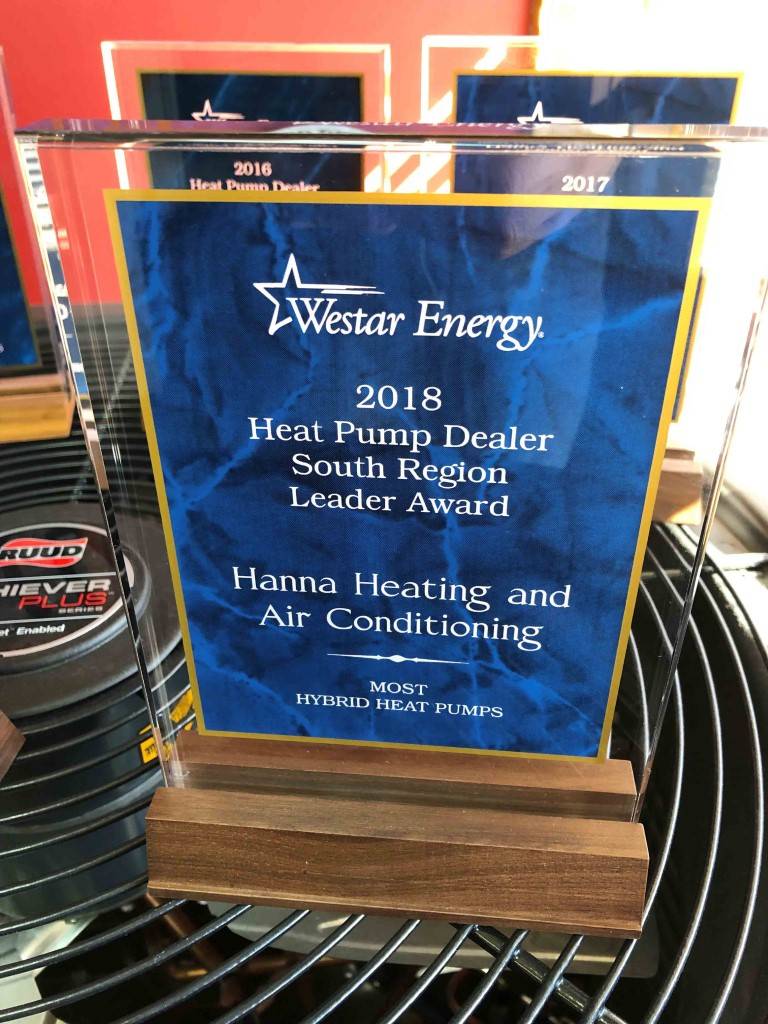 What is a Heat Pump?
A heat pump is a great way to increase your home's energy savings. High-efficiency heat pump systems provide for your heating and cooling needs year-round. Heat pumps are devices that get installed (like an air conditioner) that draw heat from outside your home to provide the energy to cool your home in the summer and to heat your home in the winter. The electricity needed to create heating and cooling from heat pumps is less than a furnace or air conditioner.
Different Types of Heat Pumps
Air-source heat pumps collect heat from the air, water, or ground outside your home for use inside, transferring heat between your house and the outside air. Most air-source heat pumps are all electric and they are the most common type of heat pump. These units typically last about 15 years.
Hybrid heat pumps work like an all-electric heat pump but can use either gas or electricity. It automatically switches between fuel sources during the mild and moderate winter temperatures, creating heat from a more efficient energy source than a furnace.
Geothermal pumps are the most effective type of system available. These are the most expensive as they are installed underground. They can expect to last about 25 years! Hanna is proud to provide the installation of geothermal heat pump systems to our customers in Wichita and the surrounding communities.
Save Money by Installing a Heat Pump Now
Not only does a heat pump help save energy, it also saves on your heating costs. Westar provides benefits with a declining rate structure. In addition, right now there are several great ways to save money on an installation from tax credits and rebates.
For a limited time Westar Energy is providing a $450 rebate for installation of a hybrid heat pump. You can trust Hanna Heating and Air to provide expert installation of a hybrid heat pump. After all, that was one of the Westar Energy awards we received this year! Contact us while the Westar Energy rebate offer is still available so that you can cash in on this great way to make your home more energy efficient.
The federal government is providing a tax credit for homeowners who install a geothermal heat system. Credits will be available through 2021. Check with the EPA on any tax saving opportunities past that. Learn more about how geothermal heat pumps work and how it could benefit your home.
Wondering if a heat pump is right for your home?
If you are considering installing a heat pump or simply have questions, contact Hanna Heating & Air for information on costs and how it could improve your home's energy and decrease your monthly bills. We also provide maintenance service to heat pumps.