Best Plants to Hide AC Units in Kansas
Landscaping Ideas to Protect or Hide an Outdoor AC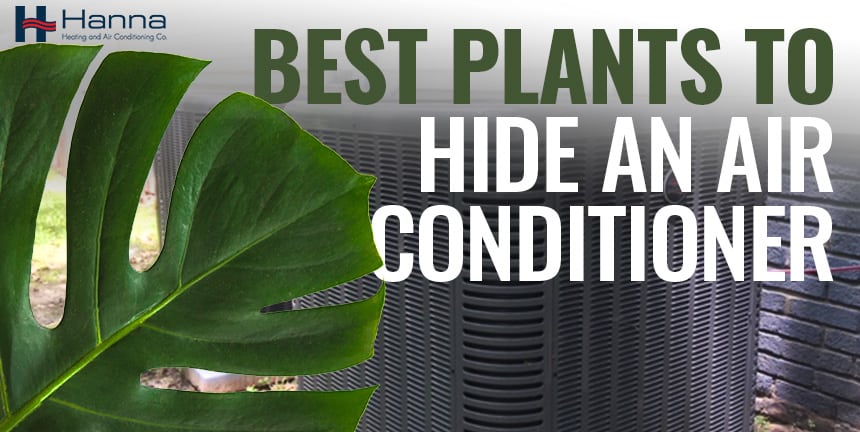 Whether for security or beauty, putting plants around an outside AC unit is a great idea! Here in Kansas, where Hanna Heating & Air Conditioning provides a full range of cooling services to homeowners and businesses, you have many landscaping options to do just that. But before you start adding plants to conceal AC units, get the important facts on what to avoid.
Protecting Your AC: Important Planting Advice
While plants are great to add beauty around an AC, you need to be careful not to cause problems to your unit. Here is the biggest AC landscaping rule to keep in mind: you need to keep plants at least 2 – 3 feet away from an air conditioner.
An AC unit needs breathing room to properly do its job. If you put a plant too close to an outdoor unit, you obstruct proper airflow, which can cause problems.
The problems of putting plants too close to an AC include:
Reduced energy efficiency of your home's system
An AC that is not able to cool your home as well
Decrease in how many years your AC unit will last
Obstruction to access your unit for necessary tune-ups and repairs
One great and low-maintenance landscaping option is to get a potted plant. That allows you the ability to move the plant easily if it grows too close to your AC. But keep in mind that potted plants still need to be placed at least 2 to 3 feet away from the outdoor unit. And never put a potted plant on top of the unit itself.
Best Plants to Hide an AC Unit
Here in Kansas, we are fortunate to have a climate that works well for a variety of plants! You have no shortage of options when it comes to enhancing the beauty of your yard.
Consider this list to ensure you are getting a suitable plant variety.
Plants that grow upright
It is a good idea to have plants that grow up instead of out. Broad-growing plants can creep too close to your unit. For that reason, arborvitaes are a good type of plant to grow near an AC.
Plants that grow slowly
You do not want a plant that grows too quickly, one that could overtake your air conditioner as it grows. A fast-growing plant will quickly encroach upon your unit unless you keep it trimmed regularly.
Tall grasses are good options
Whether it's southwestern bristlegrass, Indiangrass, or big bluestem, you can find a lot of great tall grasses that grow well in Texas to plant near an AC unit. These can get as high as 5 or 6 feet tall.
Hostas
If you are not concerned about getting tall plants to conceal it but simply want to improve the landscaping around an AC, hostas are great ground plants that won't threaten your air conditioner.
Bad Plants to Put Near an Air Conditioner
When it comes to landscaping close to an AC unit, there are some types of plants you need to avoid because of how they grow and what they attract.
Here are some plant types to avoid:
Plants that create debris

Dirt and debris can cause problems for an air conditioner. It's natural for some to develop, but too much can potentially cause it to break down or freezing up. So, avoid messy plants that create debris like azaleas.
Plants that are prickly
Avoid getting a plant with thorns or sharp leaves, like roses or holly. Prickly plants will make it very difficult (or at least painful) for you or a repair technician to service the unit.
Pollinators
It's unfortunate, but it doesn't take much for an AC unit to become the home of a bee or wasp nest. Our AC repair techs at Hanna definitely don't want to find a wasp nest inside a condenser! You can help prevent that from happening by avoiding pollinating plants that lure these insects close to your unit.
Mulch crowding in
Do not mulch too close to your AC. The coils should never be covered or buried under mulch.
Plants That Thrive in Kansas
There are many plants native to our area that would work wonderfully for backyard landscaping. According to the Kansas State Extension Office, there are several varieties of shrubs that do particularly well in the Wichita area and across central Kansas.
The Littleleaf Boxwood is a compact slow-growing shrub with small, light green leaves.
Inkberry Holly is a shrub with black fruit that grows only about 3 feet tall and wide.
Heavenly Bamboo is a beautiful shrub option for southern Kansas. It can grow about 2 feet tall and 3 feet wide.

Non-plant Landscaping Options
If you don't have a green thumb, don't fret. There are other great ways to conceal an outdoor AC unit. You can install a trellis or lattice box around your AC. Just make sure there is enough room around your AC for it to be accessible for you to handle regular maintenance as well for any necessary repairs by an air conditioning repair technician.
Placing plants or items around your AC unit can help conceal while also making your backyard more beautiful. In addition to that, extra plants can be beneficial in providing shade to your air conditioner. With the right placement, plants can give relief from the sun's heat on your AC, which can help it perform better.
Have Any AC Questions?
Hanna Heating & Air Conditioning has the team of AC repair experts in Wichita, Newton, Andover and surrounding towns. Our skilled HVAC technicians are trained to service any cooling system.
Give us a call if you need help with your air conditioning system. Contact Hanna online or by calling us at 316-945-3481.