BEFORE YOU CALL
AC Won't Turn On?
A Homeowner's Checklist for a Broken Air Conditioner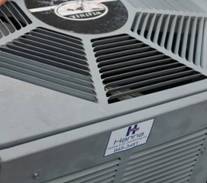 The middle of a hot Kansas summer is the worst time to find out your AC won't turn on. Your first reaction may be to call us or another Wichita heating and air company to come out and get your broken AC unit fixed right away. Feel free to call us at (316) 945-3481 and we will work to get a HVAC technician out to you as soon as possible, but you may want to take a moment before calling us to check a few things yourself. There are several possible problems that could cause your AC to not turn on. Many of these broken air conditioner issues are easy to spot and doing so may save you money.
Should you immediately call an HVAC technician when your AC won't turn on?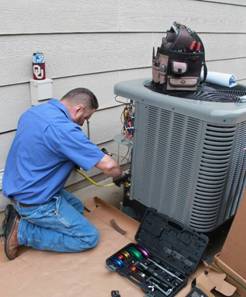 No. We have dealt with a variety of issues that can stop an air conditioner from working and have seen it all. While a lot of problems require one of our skilled technicians to identify and remedy, some of the issues that may be causing your AC to not turn on can be detected by homeowners themselves. Our technicians often get called out for problems that end up being simple and easy tasks that the homeowners are likely able to handle on their own.
While we would be happy to come out and address whatever AC problem you are having, we want you to be informed about some of the simple problems that may not require an HVAC technician to fix. Plus, we don't want you to have to spend money when you don't have to. Because handling a simple air conditioning fix on your own will save you time and money, we have created this checklist of potential problems you can look for when your AC will not turn on.
Broken Air Conditioner Checklist
These are the steps to run through first when your air conditioning unit doesn't turn on. Some of these items are simple and can be done by yourself in a matter of minutes.
Check your air filter. Has it been awhile since you've replaced it? A very dirty filter could be what's leaving you to believe your AC is broken.
Is it dirty and need to be replaced?
Clean air filters allow for proper airflow. When it's clogged with dust and debris, the airflow is obstructed. Each home and each homeowners' needs are different so changing your filter only one time every few months may not be enough.
Check the thermostat
Is your thermostat set to COOL?
Have you set the temperature to be at least 5 degrees below the current ambient temperature?
Is it not on because the batteries are dead?
This is an easy fix. While each thermostat is unique, you may find a spot along the edge of your thermostat with the word PRESS. Simply press that area to remove the battery compartment and replace the batteries. Other thermostats require you pull off the cover of the wall thermostat unit.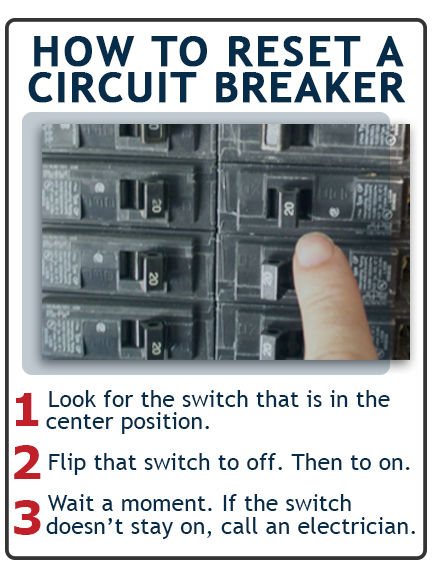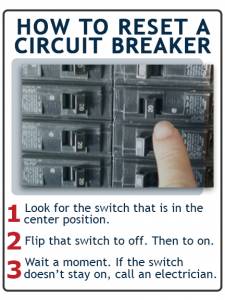 Check the power and power supply.
Have you accidentally tripped the circuit breaker?
Check the inside AC unit power switch. Look for a switch that looks like a light switch in your attic or crawl space near your furnace.
Is this inside unit switch in the on position?
If it was accidentally turned it off, the blower would be turned off which may have caused the inside unit to freeze, causing your entire air conditioning system to shut down.
Check if your outside unit is frozen.
Is there ice covering your air conditioner?
If so, turn your unit off and turn the fan on. Allow it time to defrost – DO NOT try to speed up the process by using heat or trying to scrape the ice off. Then clean away any visible dirt on the filters or replace them entirely. This may get your AC up and running right away, but you should call an HVAC technician to come out and inspect the unit. A frozen air conditioner could mean you have a refrigerant leak, which can be dangerous for you, your family and your pets.
Check to see if your AC unit is very dirty.
Is your air conditioner coil covered in cottonwood seeds, pollen or other debris?
If so, you need to clean it. Every spring in Kansas, we face the problem of clumps of white fluff that fall from cottonwood trees. These cottonwood seeds can really clog up outside air conditioning unit coils. To clean your AC unit, turn it off at the outside Service Disconnect panel, remove the top and any outer caging, and take out the fan. Take a garden hose and spray from the inside out all around the inside of the unit. Then you can spray down the exterior of the unit.
Check your AC unit's fan.
Is your AC running but your fan is completely still?
If so, either the fan motor or the capacitor is bad. While this may be something you will want a heating and air professional to handle, there is something you can do to get the temperature back down in your house immediately. With a crowbar or some other long instrument, reach in to the top of the AC unit to try to spin the fan blades counter-clockwise. This may get your fan spinning, at least temporarily. Because the problem likely lies with your capacitor, your AC's fan will again stop spinning. But getting your air conditioner's fan to start up yourself will start mean your house should start cooling back down while you wait for an HVAC technician to arrive.
Check the condensate drain line. This is the line that drains the water that created by condensation from your AC unit to outside your home.
Do you have a clog in the condensate line?
If so, it could have tripped a safety switch that shut down your AC. You can try unclogging this line by using a wet/dry vacuum to suction the blockage out. You can always call us to come out and clear out whatever is blocking your AC condensate drain line.
Check the age of your AC system.
Have you remodeled or added on to your home in the last few years?
If so, your AC unit might not be able to keep up. Your cooling system may not be able to handle the extra square footage that has been added to your home or to a change in airflow that a large remodeling project may have caused.
Is your AC unit very old?
If your air conditioner is more than 10 years old, it may be time to consider replacing it with a model that is suitable to your home's size and your family's comfort needs. This is a great opportunity to make sure you are purchasing an AC unit with a high SEER rating which can save you hundreds of dollars on your energy costs every year.
Are you experiencing other problems with your air conditioner?
Poor air flow?
Moisture or leakage?
Strange sounds or smells?
Check out our list of the various symptoms of a broken AC system and learn what each could mean.
Hanna Heating and Air has worked on thousands of air conditioners over the decades across the Wichita area. Most of our technicians have more than 10 years' experience fixing broken ac units and have seen all types of HVAC problems, big and small. We can always be called upon to come check why your AC isn't working. With our large team of technicians in our Wichita, Andover, and Newton locations, we can often deliver same day service.